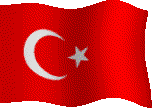 WELCOME TO IZMIR GUIDE..

WE WOULD LIKE TO WELCOME YOU IN HEAVEN OF HISTORY, SUN, SEA AND NATURE
*
**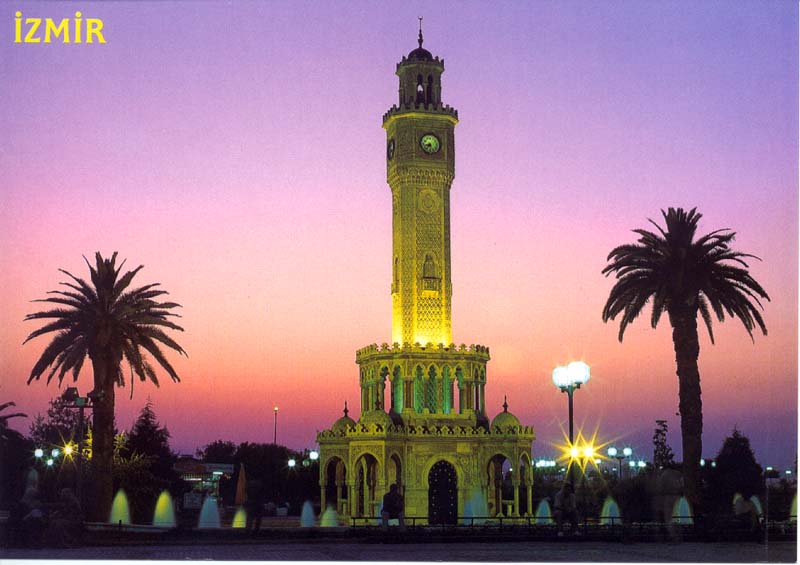 How many cities on earth are there that have a 5,000-year-long history?That have had people walking on their streets and in their squares for five millennia?

How many cities are situatedat the westernmost point of a country whose ancient name, "Güzel Anadolu", means" Land of the Mother Sun ?"

How many are situated at the beginning of a road known in history as the "Kings Road ? "Kings Road ? "Kings Road ?" How many cities are built at the crossroads of the cradle of civilisation, where for thousands of years peoples who have directed the history of man have thrived? How many cities are there on earth as lucky as this city…How many cities are there like this in this world that we live in today, rising from one of the luckiest geographical locations with a history that stretchesfar back into ancient times, a cultural mosaic that connects Europe to Asia?

This city is now calling out to you…

"I am İzmir. Hello and welcome…"

Beautiful İzmir !

İzmir is the third largest city in Turkey, with a total land area of 12,762 square kilometres and a population of more than three million people.This city, one of Turkey's most important socioeconomic and cultural centres, also has within its borders the biggest gulf to be found along the country's Aegean coast.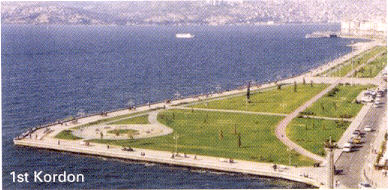 What's the weather like?

When you arrive in İzmir, you will be greeted by a very clean atmosphere, something that you will more fully appreciate after you have breathed in the fresh air.İzmir is located in one of the world'slargest oxygen zones.If you visit İzmir during the summer, which runs from March until October, hot and sunny days await you; however, if you visit between November and March, don't be surpised to find cool, rainy days that provide mild and beautiful winterweather.İzmir's climate is such that even during the winter there is no drasticchange in temperature.The Aegean coast enjoys a unique, cool wind during the summer months that tempers the high temperatures, acting as a natural air-conditioner that keeps you feeling cool and fresh all day long.

Homer's city

İzmir was formerly called Symrna after the Amazon warrşor-queen of hellenic mythology.Throughout history İzmir has been home to many civilisations, celebrating its symbolic 5,000th birthday in the year 2000.With its unique historical background, the city stil bears traces of the lonian, Lydian, Phrygian, Alexandrian and Pergamon kingdoms, as well as the Roman, Arab, Seljuk and Otoman empires.

The lliad and The Odyssey, epics written by Homer, the famous poet of ancient times, about İzmir and its surroundings in which he mentions his constant trips around the Meles Çayı(Meles Stream) and the Gulf of İzmir, where he used to play his lyreare a great sourcfe of pride to the people of the city.

City of fairs and festivals Izmir International Fair

Another attribute of İzmir, one of Turkey's most important toursim and business centres, is its reputation as the "city of fairs." It is referred to by this name because of the İzmir Internetional fair, which has been held here for the past 71 years.The Kültürpark (Culture Park) Fairground, with its 421.000 m2 of greenery, is situated in the city centre and is the venue for many of the fairs staged in İzmir.Plans are currently under way to hold other business and commercial activities in this area.This year İzmir will be hosting its 73rd İzmir International Fair.

İzmir International Festival

İzmir has playd host to İzmir International Festival for 18 years.This festival showcases İzmir's strength in international culture and art events.Every year thousands of art lovers from all over the world participate in this festival, which is spread throughout the city and held in many different venues.In addition to the Culture Park festivities, events are also put on at the Agora, the Atatürk and Sabancı cultural centres, all of which are located in the city centre.

A brief at the history of İzmir

According to archaeological finds and historical sources İzmir as a city mentioned in 3000 B.C. During ancient times İzmir was known as Symrna and was initially built on the Tepekule site known today as Bayraklı in the year 3000 B.C.

Out of the 12 famous ancient lonian League cities(Klazomenai, Phokaia, Miletos, Myus, Priene, Ephesus, Kolophon, Lebedos, Teos, Khios, Erytrai and Samos), seven of them lie within the borders of İzmir, while the rest are situated in neighbouring cities.This indicates that İzmir was experiencing some of it's most glorious days during that era.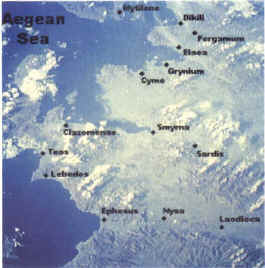 The Carian, Lycian and Lydian civilisations enjoyed their golden days in İzmir between the 7th and 6th centuries B.C. The Lydians, who began to establish a kingdom towards the beginning of the seventh century B.C., made Sardes, situated in the centre of the Aegean region, their capital.They were the first civilisation in history to mint coins out of gold and silver.During this period (towards the end of the seventh century B.C. and the beginning of the sixth century B.C.) the Lydian king Alyattes invaded and destroyed İzmir, which was later invaded by the Persians (546-334 B.C.). In spite of this second invasion the influence of the Lydian civilisation continued until arround 300 B.C. During the reign of the Persians in western Anatolia, the Grek and Persians cultures interacted, and as a result monuments were created in the Greco-Persians style.

Alexander the Great rebuilt İzmir in fourth century B.C. (334 B.C.) on the pagos Hills, known today as Kadifekale.This was also the period when the hellenic period the cities of the Aegean region were covered in architectural structure exhibiting Hellenistic characteristics, and the art of sculpture was developed.

*

*

HISTORY

The city was under control of the Pergamon Kingdom for some time after the death of Alexander the Great.The city once again began to thrive in 190 B.C. while under roman rule, playing an important role for the development of Christianity. A great cultural renaissance occurred in İzmir under the romans. İzmir remained under roman rule until the fourth cuntury A.D., when the Roman Empire split to two (A.D. 395). İzmir fell under Byzantine infulance and became part of the Eastern Roman Empire, serving as one of the most important bastions of Byzantium until the year 1320. During this period many Byzantine-style structures were erected in İzmir. In addition, with the spread of the Christian religion, a paralel increase in religious structure and art were also winessed.

Despite the fact that İzmir was taken over by the (the upper half) was ruled first by Emir Çaka Bey and later by Aydınoğlu Gazı Umur Bey of the Turkish Seljuk Empire (in 1320). In the 14th cuntury the castle and the lower part of İzmir were conquered by the Knights of Rhodes (1344). In the 15th century, when the Otoman sultan assumed control over Anatolia, he made İzmir a part of his empire, but the Mongol khan, Timur, invaded the city the Otoman Empire at the time, succeeded in retaining the city as capital of his kingdom until 1415, when Otoman Sultan Mehmet I brought the city back under his control. In 1422 Sultan Mehmet II made İzmir a permanent part of the Otoman Empire.

Starting in the 16th century İzmir developed as a centre of trade of the Otoman Empire and in the 18th and 19th centuries became an international commerce capital under British, French, Italian and Dutch traders. After World War I (1914-18), the Turkish goverment launched its struggle for independence. The war for İzmir's indepence ended on Spet. 9, 1922, and today İzmir holds a prominent place in Turkey's recent history.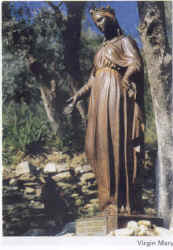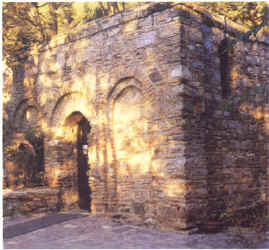 Virgin Mary Virgin Mary House

*

Konak Square

Konak Meydanı (Konak square) is the centre of İzmir city. Due to the presence of such official institutions as the municipal and governorship buildings coupled with a concentration of shopping facilities in this square, it setrves as a meeting and intersecting point for transportation within the city.We invite you to follow us on a step-by-step tour of İzmir, starring with Konak Meydanı. On this short tour, which we will be taking on foot, let's get acquainted with the historical and cultural sites of İzmir.

Clock Tower

This monument was built in 1901 by the Otoman Grand Vizier Küçük Said Paşa to commemorate the 25th anniversary of the coronation of Otoman Sultan Abdülhamit II. The architectural design of the tower bears a resemblance to those of the German Consulate building located on the 1st Kordon and St Polycarp Church in Alsancak.Raymond Pere desinged them all. The tower is 25 meters in height and has fountains on each of its four corners. The clock in the tower was a gift from German kaiser Wilhelm II.

Government House

This building, which is used today as the state building, was built between the years 1868-1872. It was later destroyed by fire in 1970 and restored to its orginal state in 1971.

Old rıhtım and Customs Buildings

These structures were built in 1854, as the first french customs building. It is believed that the architectural desing belongs to the famous French architect Eiffel or his assistant. It remained the Customs building for many years and later became the Customs House for marine products. Known as the Konak Pier, The building has been restored to its orginal state and is being prepared to an entertainment and shopping centre.

Elhamra

Built by Turkish architectural Pioneer Tahsin Sermet, this structure is located on Nadir Nadi Avenue. (Nadir Nadi was the first Beyler ruler.) The cinema section of the building was opened in 1926 and the library in 1933. Today, this building, which alsohouses the İzmir State Opera and Balet and the Public Library, is a representative structure of İzmir.

Historical, cultural and commercial sites of Kemeraltı

Kemeraltı is Turkey's largest and İzmir's most colourful and lively bazaar. This bazaar, which contains many historical houses, mosques, synagogues and hans (inns), has been the heart of İzmir's commercial and businness life for 2,500 years and in this context is unique in the world.

The Kemeraltı Bazaar is currently the most important shopping and residential district of the city. Alongside the mysterious old vaulted and domed shops, modern business centres, shopping complexes, cinemas end cafés make Kemeraltı a site that caters to all shopping tastes.

In Kemeraltı it is possible to find various types of traditional Turkish handicrafts, including ceramics and ceramic panels, copper and zinc alloys, wooen products, carpets, kilims and leather products. The traditional Turkish arts of carpentry, copper work and blacksmithing on the streets of Kemeraltı.

This historical bazaar, offering readymade clothing shops, shoe shops and cobblers, souvenir and gift shops, restaurants, bookstores, second-hand bookshops, jewellery shops, spice dealers, fishmongers, florist shops, sweet shops and sweets makers, fruit shops and pet stores, will take you at least two hours to browse.However, if you really want to have a good look around, we encourage you to take at least one entire day to sightsee in this bazaar.

Kızlarağası Hanı

One of İzmir's most important structures is the Kızlarağası Hanı. This inn was built in 1741. This two-storey rectangular structure, which has an iner courtyard and four entrances, is a rare example of Ottoman architecture found İzmir. The inn was restored in 1933 and today serves as a centre for sale of antique goods, authentic gifts, second-hand boks, jewellery and leather products. It also contains several tea salons and coffeehouses.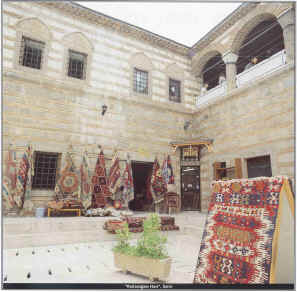 Kestane pazarı (Chestnut Market)
This market is full of life all day long. It is a long narrow street dotted with spice shops, sweets shops, fishmongers, cheese-makers, pickle shops, wood carvers and souvenir shops.
Bikur Halim Synagogue
Bikur Halim Synegogue, which is located in the İkiçeşmelik district, was first built by Solomon de Ciaves, a Dutchman living in İzmir. The building was destroyed in the great fire of 1772. In the year 1800 a new synagogue was constructed in the same area by Manuel de Ciaves. Today this synagogue stands out as İzmir's most beautiful and stil retains all the characteristics of the original structure.
Bikur Halim Address: Ikiçeşmelik caddesi No: 40
Havra Street and the Synagogue
Havra Street gets its name from the many synegogues that line it. It features an interesting structure that bears a resemblance to the Kestane Pazarı in which all varieties of foodstuffs are sold. In the 15th cuntury, at the invitation of the Otoman Empire, Jewish families from Spain migrated to İzmir and made Havra Street and its environs their home. The presence of many mosques in the area side by side with the Ez Hayım, Bet Illel, Shalom, Talmud Tora, Sinyora and Algazi synagogues is prof of the tolerance and brotherhood between the people of both religions in İzmir. (Sinyora Ivaret
Address: 927 Sokak No. 7, Mezarlıkbaşı.)

Mosques

*English Ayse's Mosque (Isabey – Yalı Mosque) 18th century work of art. This mosque is located on Konak square.

*Kemeraltı Mosque (1812) This mosque is located on Kemeraltı 853 and 856 streets.

*Salepçioğlu Mosque (1906) This Mosque is located on Kemeraltı, 850 and 917 streets.

*Başdurak Mosque (1774) This Mosque is located on Kemeraltı Anafartalar Avenue and 863 street and is bounded

by 869 and 873 street.

*Kestane Pazarı Mosque (1667) This Mosque is located on Kemeraltı 872 and 882 streets.

*Şadırvan Mosque (1636) This Mosque is located on Kemeraltı Anafartalar Avenue and 912 street.

*Hisar Mosque (1592) This Mosque is located on Kemeraltı Hisarönü.

*Hatuniye Mosque (18th century) This Mosque is located on Kemeraltı Anafartalar Avenue.

*

House Museum of Dario Moreno and the Historical Asansör

The house in which the famous Dario Moreno used to live has been transformed into a museum. The surrounding houses have been restored, and the street has been named Dario Moreno Street. The 40-meter-high historical lift building (Tarihi Asansör) that stands at the end of this street was built by the Jewish businessman Nesim Levi in 1907 as a means of connecting the Karataş and Halil Rıfat paşa quarters. At the top of this lift building are a restaurant that has a wonderful view of the gulf of İzmir, the Ceneviz Meyhane (Genoese Wine - House) and a café. Asansör is one of İzmir's most prestigious spots. In the 1930's a theatre stage, a cinema, café and photography studio were installed in the Asansör building.

Alsancak

Alsancak, which is the shopping and entertainment centre of the city, used to be known as Punta.From Konak Square going towards the eastern part of the city, Alsancak is a 30-minute stroll using either 1st Kordon, the seaside road that also serves as a promenade, or the iner street, Cuhhuriyet Blvd., you will see various representatice structures along the way.Some examples of the republican architectural style situated here include the Vakıf Bank, Garanti bank, Tourism Directorate, Ziraat Bank, Kardıçalı Han and Stock Exchange buildings.

If you decide to take the seaside promenade, after Konak Pier you will pass by the 1884 Pasaport Ferryboat Terminal and arrive at Republic Square (Cumhuriyet Meydanı). This square, the site of many large hotels, is a symbol of modern İzmir.

The Hilton Hotel and the Grand Ephesus Hotel, which is currently undergoing renovation as part of its transformation into the İzmir Ephesus Swissotel, can all be seen from the square.You can take any one of the surrounding roads to get to the Culture Park. The square contains a large statue of Mustafa Kemal Atatürk, the founder of the Turkish Republic. Created by famous Italian sculptor Pietro Canonica in 1932. Alsancak contains an abundance of old İzmirian houses with boq Windows built in the Italian architectural style, world-famous ready-made clothing shops, fast food outlets and countless restaurant-café-bars and night clubs. In addition it is also the centre and location for numerous consulates, movie theatres and cultural centes. The areas that are closed to heavy trucks and only open to pedestrians are lively 24 hours a day.

Dantel Sokağı (Lace Street)

Dantel Street is a long, narrow street that opens up to the Kıbrıs Şehitleri main street. It is so narrow that were you to spread out your hon both sides, you would be able to touch the walls of the houses on either side of the street. The street has an interesting architectural style.You will be spoiled by the huge selection from which to choose gifts for your friends in the handicraft and authentic goods shops that can be found on either side of this street.

Alsancak Train Station

An 1858 structure, the train station is a fine example of English architectural style. The resemblance borne by the district to a typical English village was further strengthened by the addition of a clock to the station building in 1865. This was the first clock tower in İzmir.

*

Catholic Churches

St. Polycarp Church

This church is located at the intersection of Gaziosmanpaşa Blvd. And Necatibey Blvd. On the way from Cumhuriyet Square to Basmane. The building was built in 1625 in honour of St. Polycarp, who was killed in A.D. 155 in Kadifekale at the age of 86 because of his strong beliefs and faith. It is İzmir's oldest church and is open to the public every day throughout the year.

(Address: Necatibey Blvd. No. 2

Telephone: 00-90-232-484-84-36)

St. John Dome Cathedral

This church is located on Şehit Nevres Blvd., which leads from Cumhuriyet Square to the Culture Park Fairground. It is open to visitors daily throughout the year.

(Address: Şehit Nevres Blvd. No. 29, Alsancak

Telephone: 00-90-232- 484-53-60)

Santa Maria

This church stands behind St. Polycarp Church on Halit Ziya Blvd. It is open to visitors all year round.

(Address: Halit Ziya Blvd. No. 67

,Telephone :00-090-232-484-86-32

)

Notre Dame de St. Rosarei

This church is located on 1481 street and is open all year round.(Address: 1481 Street No. 8, Alsancak

Telephone: 00-90-232- 484-66-66)

Anglican Churches

St. John the Evangelist Church: This churchis located at the intersection of Talatpaşa Blvd. And Mahmut Esat Bozkurt Avenue.

Address: Talatpaşa Blvd., Alsancak

Telephone: 00-90-232- 464-57-52)

Orthodox Churches

Aya Fotini: Built in 1793, the church is only open on important holy days.

(Address: 1374 Street No. 24, Alsancak

,Telephone:00-90-232-421-69-92

,Shaar Ashamayan Synagogue

Address: 1390 Street No. 4, Alsancak)

*

Culture Park (Kültür Park)

The Culture Park is one of the largest areas of greenery within the city. In addition to the beautiful Mediterrnean palm trees lining the park, there are also various other plants and flowers. Culture Park is İzmir's largest recration centre, with its zoo, gardens, funfair, sports facilities, theatres, open-air cinema and more. The İzmir International Fair is held at the Culture Park Fairground every year between Aug. 26 and Sept. 10. The atmosphere generated by this event is one worth experiencing.

The slope of Kadifekale was the site of İzmir's second settlement, following the community established at the Tepekule tumulus. Known as the Pagos Hills in those days, Kadifekale served as the city's centre of defence for hundreds of years. With its huge potential and important position in Anatolia's commercial activities İzmir, throughout history, has always managed to preserve as well-organised and developed city plan with its gymnasiums, stadiums, theatres, agora, aqueducts, cisterns and magnificent castle.

Kadifekale

Kadifekale (castle) was built in the 4th century B.C. by Lycimachos, one of Alexander the Great's generals. Today only the southern wall and five towers remain from the old Kadifekale. The iner castle structure is an example of Middle Ages architecture. The castle was built on a six-square-kilometre area, and its towers measured 20-35 meters in height. The eastren and northern sections of the castle have been totally destroyed, and the interior of the castle is now a forest of pine trees. The remains of a water cistern can also be found with in the castle. The Pagos Hills are one of İzmir's must-see sites because the panoramic view of the city is well worth experiencing.

Agora

The Agora, or market place, of Smyrna was located on the northern slopes of the Pagos Hills that face the bay. It was built during the Hellenistic era and connected via a broad street from the North to the trade Agora at the port district. After a destructive earthquake in 178 BCE, the Roman emperor Marcus Aurelius rebuilt the city. On the North side there is a basilica and in the basement of the building there are grafitties, which are unique examples in the world.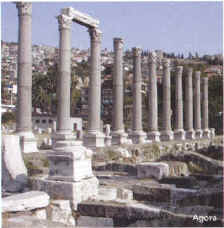 İzmir Archaeology Museum
This museum is loceted in Konak at the sarting point of the Varyant, which connects konak to izmir's most populated district of Hatay. Next to this museums is the İzmir Ethnography Museum. The museum contains exhibition halls, laboraties, stroage facilities, photography halls, a library and a conference room to accommodate all sorts of requests concerning the materials found here. The three-storey museum building has been divided into sperate exhibition section. In the top-floor salon are artefacts from the ancient cities of Lasos, Çandarlı and Pergamon. In addition ceramic Works from the Proto-geometric and Geometric periods of western Anatolia, Myrina Eros statues glass pieces, coins and a bronze statue of Demeter are also on display here. The middle flor, which is also the entry flor of the museum, displays marble art objects. Statues, busts and portraits from the Archaic period to the end of Roman period can be found here. On the garden flor, which is also the first flor, marble friezes from the Roman period as well as colossal statues and tombs are on exhibit. The Ekrem Akurgal Hall, which displays ceramic art from the Proto-geometric and Geometric periods of western Anatolia, was opened in 1999. We suggest that you visit all these sections in order to get an idea of the cultural and socioeconomic situation of those times.(Bahri Baba Parkı Konak (Park) Telephone: 00-90-232- 489-07-96)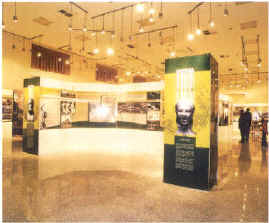 Culture Park History and Art Museum

İzmir has gained a new museum at the begining of 2004. The history and Art Museum in Culture Park is formed by 3 seperated buildings. Besides the archeological monuments, a precious monument hall and the very best extensive coin collection of Turkey are also on display.

The important poet Homeros splendid antique statue is also present in the museums. Besides the monuments taken from the garden of İzmir Archeological Museum which is situated in Konak, Culture Park History and Art museum contains the new monuments found during the excavation in The important poet Homeros' splendid antique statue is also present in the museums. Besides the monuments taken from the garden of İzmir Archeological Museum which is situated in Konak, Culture Park History and Art museum contains the new monuments found during the excavation in İzmir and its enviroment. Another attractive part of the museum is the where, the monuments found during the excavation in Agora are on display.

İzmir Ethnography Museum

Built in 1831 as the Rock Hospital, the building was turned into the Ethnography Museum in 1987. Situated next to the İzmir Archaeology Museum, the first and second floors of this three-storey museum host exhibition halls, while the third flor serves as a laboratory, photography salon and storage room. Items that show a cross-section of the social structure of İzmir and its surroundings in the 19th century are on display in the exhibition halls.Samples of traditional Turkish crafts such as boat building, clog making, pottery, carpet weaving, rope weaving, felt weaving and saddlery are also on view here.

Telephone: 00-90-232-489-07-96)

(Open every day except Monday between 08:30-12:00 and 13:00-17:00)

İzmir City Museum and Archives

The Central Fire Brigade building, one of the representative buildings of İzmir's history from the republican period. The meseum will contain special documents concerning İzmir and photographs as well as personel information and family histories. Exhibition halls, a library and several rewading rooms will also be avaible for interested parties who wish to cunduct research. The museum will be an important centre of discovery. This historical building was put into service as the Central Fire Brigade in 1932, which operated here non-stop for 70 years until the end of 2001, when it was moved to a new location.

Atatürk Museum

Located on the 1st Kordon, this two-storey house was the building where Atatürk used tos tay on his visiits to İzmir. The residence was constructed between 1875 and 1880. Atatürk was staying in this house on Sept. 17, 1923, when he participated in the first İzmir Economic Congress. The house was given to him as a gift in 1926. After his death it was opened to the public as a museum in 1941. The house bears traces of both the Otoman and Levantine cultures and attracts attention because of its neo-classic architectural style. Five marble steps lead to the semi-circular entrance of the house from the centre of the house's front section. From this door you enter into the ground flor salon. The flooring of the house is all wood, and the roof has rich and beautiful desings. On exhibit here are Atatürk's personal belongings.

Address: 1 st Kordon No. 148, Alsancak Telephone : 00-90-232-464-48-05

*

*
What to eat ?
Seafood
İzmir's cuisine is primarily composed of seafood.barbun fish, actopus and squid, perch and gilthead bream, which are transformed into mouth-watering delicacies in İzmir.Shrimp, sea urchin and cidonnia are also prepared very well. You can sample delicacies unique to the Aegean region – onion piyazlı, grilled perch with black pepper, carrots, potatoes and onions – in the fish restaurants that line the Kordon as well as in the İnciraltı, Narlıdere, Güzelbahçe, Urla, Çeşme and Foça district.
Authentic Flavours
İzmir and its environs are rich not only in seafood but also in a mixture of Aegean, Mediterranean and Anatolian dishes. The abundant vegetation and the variety of athnic groups are the main reason for this rich mixture. Tere soup, Tarhana soup, Keşkek, Zerde, İzmir meat balls, Ödemiş kebab, Tire meat, balls, Boyoz (a kind of Jewish pastry), Papaz Yahni, roast beef, Mücver, tomato soup, Kol böreği (pastry), gerdan, Tel kadayıf and radicchio salada re some of İzmir's famous cuisine. We advise you to try some some of these authentic dishes.
Çöp Şiş
İzmir also has a large vaiety of kebabs, pide and other authentic dishes. Located close to Alsancak's Cumhuriyet Square, the Topçu'nun Yeri restaurant.You should definitely try them.!
International Flavours
İzmir is a very modern and cosmopolitan city, so of course you will be able to find various international restaurants here.Chinese, Italian and French cuisine awaits you in Alsancak.
Turkish Wines
In 1993 the world's most respected wine magazine, Wine Decanter, conducted a poll on wines that would be preferred in the 21st cuntury and preented the results to its readers.The survey asked about important characteristics of wine, such as, "Which countries will show amazing progress by the end of the century?" and "Where would you like to grow your grapes in the year 2000?"
The answer to all these questions was "Turkey."
Ten years later, Turkey's viniculture has proved Wine Decanter's study to be correct. Turkey experienced a wine renaissance in 2000 and now boasts one of the largest grape producer.
Turkey producs 22 varieties of domestic grapes including Boğazkere, Öküzgözü and Kalecik Karası for red wine, while Emir is of world-class standard for white one. Turkey also grows 12 varieties of foreign grapes (Cabernet Sevignon, Merlot, Carignan, Shiraz, Chardonnay, Sauvignon, Blanc and so on). In addition to the government monopoly, 45 private companies produce wine. Wine production is widespread in Turkey but is particularly predominant in Thrace and the Aegean region. The use of the same methods as in French chateaux has increased the quality of existing Turkish wines and introduced new ones.
Turkey's most important wine-producing companies apart from the state include Kavaklıdere, Doluca, Sevilen, Turasan, Yazgan, Pamukkale, Kocabağ, Bağcı, Diren, Bortaçina, Talay, Aral, Gülor, Safarin, Atatürk Orman Çiftliği, Melen, Küp and Kemal Hastürk.
When visiting Turkey don't forget to buy a few bottles of wine ! You can drink it, save it or keep it as an investment. You will love this magic-potion gift known as "wine," given to the world by Anatolia 6,000 years ago!
Turkey's World Brand : Rakı
Turkey is the motherland of the Mediterranean's popular and beloved drink, Rakı. Although France, Italy, Spain and Greece all have a type of rakı, Turkish Rakı is a whole different experience. Produced only İzmir-Çeşme and made from grape alcohol, Turkish Rakı is popularly known as "lion's milk."
There are rules, however, for drinking this lion's milk. Even though mixed with water, it still is quite strong (40-50% alcohol). This fact is brought to mind in a Turkish proverb that warns, "Drink carefully because it doesn't sit as calm inside you as it does in the bottle." For this reason, come along and let us show you how to appreciate and enjoy the beauty of Rakı. We will try to teach you the art of drinking lion's milk.!
What to buy?
İzmir's commerce has been conducted for close to 100 years in the commercial centre of Kemeraltı. The area hasn't changed much over the years and stil maintains its ancient look with shouting merchants, the sound of metalworkers, fishermen in wet aprons and the fountain next to Sadirvan Mosque. Rope makers, jewellers, printers, shoe-makers and ironsmiths all stil work in Kemeraltı as well. You should definitely visit Kemeraltı when you are in İzmir in the future! İzmir's modern shopping facilities are loceted on the Kordon in Alsancak and on Cumhuriyet Street in Karşıyaka. Kemeraltı's neighbouring area, Çankaya, has many exclusive boutiques and shops, and from there you can visit the shops in Alsancak and Karşıyaka to shop some more. In addition, beautiful Turkish carpets and kilims with wonderful motifs and designs are displayed in countless shops. Beautiful examples of gold and silversmith work, leather shops and souvenir shops can be found all over İzmir. In addition to Kemeraltı shopping district, you can also find whatever you want in Alsancak, Konak, Çankaya and ofcourse outside of İzmir in Çeşme, Selçuk and Bergama. If you are interested in Middle Eastern belly dancing and want to take home a costume, İzmir is the right place to be. İkiçeşmelik –İzmir single-handedly supplies belly-dancing costumes from this area at a fair price.
Must-see
Kızlarağası Han (inn), the historical Elevator, Clock Tower, Old Rıhtım and Fair
İzmir Archaeology Museum, İzmir Atatürk Museum, the Kordon, Kemeraltı bazaar and Havra Street
These are the places you
should definitely visit before leaving İzmir…
Must eat and buy
İzmir meat balls, sea foods, Turkish hors d'oeuvre and çöp iş kebab…
You can buy from İzmir the most beautiful example of Turkish carpet and kilim arts and the precious Works of jewellery…
Dried figs and grapes can be found in many shops arround İzmir; however, the tariş shop in Konak sell the best quality at fair prices. Kemalpaşa cherries, Bergama Tulum cheese, a few bottles of turkish Olive oil…
*
We saluet with love ;
Nineteen...
*
Copyright©.www.ondokuz.gen.tr